Spring Woes for beekeepers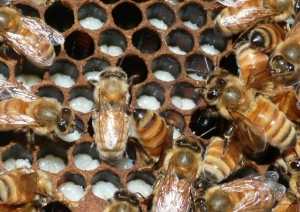 Well, We've all been lulled into an easy Spring. The weather has been fairly kind to us. Gardens are blooming, the temperatures have been good, Overnight temperatures also good. However, and it's often the case, we find a late chilly spell.
It's not good for farmers and certainly not good for us beekeepers.
At this time we expect our hives to start increasing in numbers. The Queens are laying and suddenly a colony has eggs, larvae and pupae to keep warm and fed.
Once a colony has brood it is essential the temperature in a hive is maintained at around 33 degrees up from the overwintering temperature of around 25 celcius. This uses up much more stored food. On top of this, feeding young consumes much energy and food reserves. It can be a fatal increase. Should bad weather occur or if insufficient honey has been stored a colony can starve.
At least the forcast is once again looking up. Lets all hope so for the bees.

Rentahive Visits Mitre 10 Mega In Dunedin to demonstrate a live beehive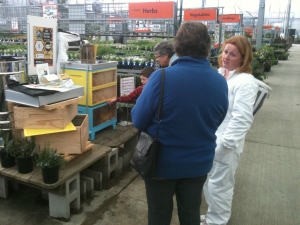 This weekend Rentahive joined up with Mitre 10 Mega in the garden department.
Our special hive has large viewing windows showing off three levels of bees going about their business.
It was great to see kids and adults come along with so many questions. It was a very busy weekend. Thanks to all those that came to see us.
Rentahive in the ODT
Rentahive has had a lovely article published by the ODT. We were interviewed by Sally Rae of the ODT. Photos by Stephen Jaquiery. 29th April 2013.
Rentahive receives Star publicity
Rentahive was interviewed this week by the Star Newspaper of Dunedin.
We offered Dan Hutchinson, the Star Reporter a chance to don a beekeeping suit and see the insides of a beehive.
The Star article disusses the ongoing plight of Honey bees in New Zealand. It also reported comment From Mr Frans Laas of Betta Bees in relation to Varroa Mite and the local situation.

The following link will take you to the full article complete with pictures by Dan Hutchinson. You will find this article on page 14 and 15.
http://digital.thestar.co.nz/olive/ode/str_daily/