Rentahive Website Launched November 2012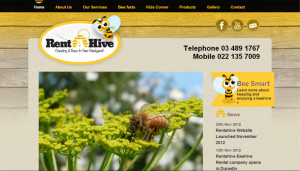 Our new website is launched! We can now offer much more by way of news, newsletters, helpful tips and advice, kids area and products for sale.
Rentahive Beehive Rental company opens in Dunedin
Rentahive offers a completely new alternative to beekeeping. For an annual rental, customers recieve a hive for their garden, complete hive management by Rentahive and packaged honey from the hive in late summer.